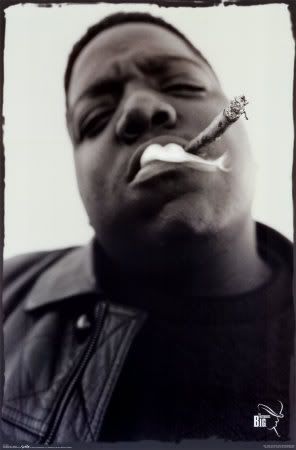 In honor of
Notorious
hitting theaters this Friday, and just because I happen to think the Notorious B.I.G may have been the second coming of Christ, I thought I'd go ahead and list my top five songs by the big man himself. If you're a Biggie fan, feel free to discuss, and if you're not, these are five great ones to start on. So here we go.
5.
You're Nobody Till Somebody Kills You
Favorite Lyric-
You can be the shit, flash the fattest five, have the biggest dick, but when your shell get hit, you ain't worth spit, just a memory.
One thing Biggie never does is let you down. When he gets a good beat, he absolutely destroys it (in a good way, of course). This song is no different. It's funny, the lyrics highlight human mortality and how fleeting life and power are, yet the title implies one's inability to achieve true greatness and immortality until after death. Clairvoyant much?
4.
Ready to Die
Favorite Lyric-
My shit is deep, deeper than my grave G, I'm ready to die and nobody can save me.
Was this guy a prophet or what? One of Biggie's more personal songs,
Ready to Die
features Biggie rapping over a straight gangster beat while Puff Daddy slowly kills him in the background. It was a tough decision picking a favorite lyric, since "My life is played out like a jheri curl" might be one of the best rap lines I've ever heard. A must listen.
3.
Hypnotize
Favorite Lyric-
Face it, not guilty, that's how I stay filthy, richer than Richie, till you n****s come and get me.
I was driving with a friend of mine a few years ago and this song came on the radio. We both kind of paused for a moment and then agreed that you just don't hear rap songs like this one any more. It may be one of Big's more famous songs, but that doesn't take away from how fantastic it is. If you think about it, the song is almost entirely just Biggie rapping over a drum and base beat. And yet, his voice is enough to fill the track and make it one of the most intense, fullest rap singles ever released. Also, he gives D.C. a shout out. Love it.
2.
Things Done Changed
Favorite Lyric-
If I wasn't in the rap game Id probably have a key knee deep in the crack game. Because the streets is a short stop, either you re slingin' crack rock or you got a wicked jump shot.
I just love this song. Like all of Biggie's records, it's so real, so guttural, and, unlike a lot of his songs, it's a plea for an end to gang violence, and to a return to the old days of "summertime cookouts." At the same time, the song acknowledges that things will never be the way they used to be again. Something about when Biggie says the words "Believe me," just forces me to stop what I'm doing and listen to the rest of this song every time I hear it.
1.
Juicy
Favorite Lyric [tie]-
Now honeys play me close like butter played toast, from the Mississippi down to the east coast. / It was all a dream!

From the second the first line of this song hits-"It was all a dream," it is nothing but pure hip hop bliss from start to finish. It's not too grand an assumption to say this is very possibly the best rap song ever recorded. It's Big's mission statement, his past, his present, and his future, all rolled into one. It's almost impossible for me to hear this song and not stand up and sing along.
And if you don't know, now you know...
--Daniel