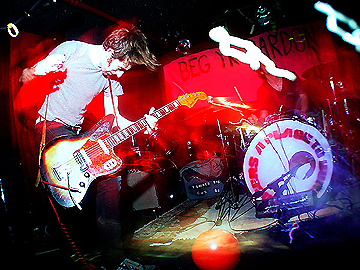 Another year and I still have my hearing, amazingly. So far I've seen another 30 concerts already, but along with the usual loud stuff, I've had the chance to see more classical stuff which has been wonderful change of pace, although a lot of the music is still quiet mysterious to me. Sometimes as I'm standing at the 9:30 Club or the Black Cat, I felt like I see the same bands over and over, but I generally realize there's a reason I come back to see bands again. Here are a few of the things I've really dug thus far in 2009:
A Place to Bury Strangers - One of the loudest bands around. But they'd be nothing without melody, and underneath the fuzz and the pounding, these are great great songs.
Jim Hall Trio - Absolutely the quietest concert I've ever been to, and one of the best. Hall, whose been playing jazz guitar for many decades may have moved very slowly onto the stage, but his fingers still move like a dream. It was stunning for him to take a song like "My Bloody Valentine," which he's probably played literally a thousand times, and still spin gold out of it.
Fischerspooner - Although it was at the 9:30 Club, this was more of a performance than a concert. But it was a great performance - a bunch of New York Artist types taking the piss of a big budget concert experience but still giving a fantastic show.
Bang on a Can - The folks behind the Bang on a Can classical collective brought a mini-version of their 24 hour festival to Clarice Smith. I don't think everything I saw was inspired, hell, some of it were downright bad, but that's the risk you take with modern classical. Yet their live recreation of Brian Eno's Music for Airports, played in the sprawling CSPAC lobby, was utterly transcendent.
Chick Corea + John McLaughlin - The years of experience and the amount of great work from these two leaders and their crack band of Kenny Garrett, Christian McBride and Brian Blade is just mind boggling. Each one of these guys is a band leader in their own right, and yet this is a proper band and everyone contributed to the whole -- and played their ass off.
The New Deal - The New Deal are three guys playing live techno, and even after an extended sabbatical, they're one of the best live bands around.